! This document is (c) Hiyami and belongs to the Soulcatcher: http://www.soulcatcher.org >
Arthur Rimbaud
A life on Earth,
A season in Hell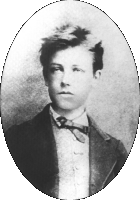 Arthur Rimbaud was a French poet, born 1854 and dead 1891.
He's famous for having renewed poetry, for having experimented
all kinds of writings with genius - and quite a wide range of life-styles too.
He explored paths that had never been perceivedbefore him.
To give you an idea of why his work is still so important in
the history of French and international poetry, let's say that
he covered in a few years nearly all the spectrum of styles,
not only as a gifted technician but with a still living inspiration.
He broke the rules to invent new ones,
he wanted to create something never seen.
He started writing at a very young age,
and he achieved his poetic career before he turned 21 -
he then turned his back to his attempt of 'changing life' through art,
with a feeling of failure that we can hardly share.
He did change the lives of many people who have met him,
and of thousands who have read his work.
He has changed the way we perceive poetry - and sometimes, the world.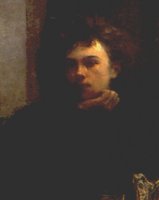 Detail of "Le Coin de Table" (Table Corner) by Fantin-Latour,
1872, Musée d'Orsay, Paris
The picture at the top of the page is by Etienne Carjat,
1872.
His work and myth often embody youth and rebellion.
He can't be ignored, and too many have been fascinated by him.
I don't know.
And I hate to write so lyrically and with so many clichés about him,
someone who was always going against the flow,
by taste, nature or conviction.
Really, he doesn't need to be mythified or turned into something else
that he was to be interesting, and thought-provoking.
The only thing I know is that his words speak to me through time.
That he also keeps providing a sort of legacy to me.
And I'm thankful for that.
---
Link
Arthur Rimbaud - The Drunken Boat
self-claimed web's largest Rimbaud site in English.
I don't have the time to check if it's true but I'm ready to believe it because
it's impressive for sure. It features biography, poetry, graphics,
links to absinthe, Total Eclipse (film and play), etc...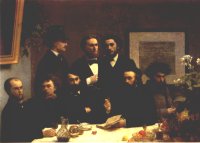 "Le Coin de Table" (Table Corner) by Fantin-Latour, full picture.
Verlaine is sitting beside Rimbaud at the extreme left.

Fly back to the main page
Soulcatchers : Armand ~ River Phoenix
Music ~ Library ~ French summary ~ Map